---Art Performance Videos/Pics/Events---
- Video introducing Jimmy -

"The Bureau Burden Of Indian Affairs" This piece was built in 90 minutes onstage in Salida for a free show, with a DJ, kaoroke drummer, and onstage paintist. This was by donation by patrons and silent auctioned. The Mayor bought it, and got a second piece of art, the title painting by Brink Messick, to match. After expenses, the balance of the door went to KHEN community radio, the free people's Clinic, and the nonprofit ArtWorks. The title refers to the pain of Native Americans dealing with white man's depressing and exploitive beaurocracy.
2/12 Instant Art Event, Salida VIDEO---(still pics here)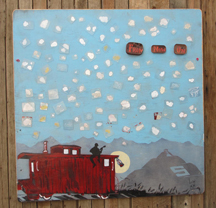 "This Train"

3 sections of a train, chained together, built onstage in Salida, CO. June 29, 2013 with Brinkley Messick & Mark "Eyeball" Kneeskern, in a 2 hour riotus event including DJ Dangerous Dave, Brian Rill, TR Price, Sandi Turvan - aerialist, and the Caboose Dancers. This art is 4.5'hx13'wx6"deep, and for sale at $5000.
RIP Mark... killed by a train in Iowa Aug. 31, 2014. Video is currently in production, Pics here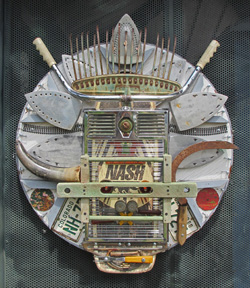 "Skate You? Skate SIOUX!" 7/14 with Walt Pourier, Stronghold Society, Denver Skatepark - Video
An all day Instant Art event for Native American kids being helped thru life by skateboarding and Walt, who is from the Pine Ridge Indian Reservation. He is trying to prevent Native teen suicides.
LOUISIANA SERIES -
"HI'm Alive!" This piece was built onstage once again with DiNOLA for a benefit for the largest oldest AIDS awareness org. in the South, NO/AIDS Task Force, at the Green Project in New Orleans which never had such an event. The art will be auctioned off at the New Orleans Museum Of Art on Dec. 7 at thier massive yearly gala. Video is in production stages. 5/2013 Pics here
"Get Your Inside, Outside" This piece was built in an hour show at Raphael Academy in New Orleans, as a fund raiser to build another school for autistic kids. Rocking out for the 2nd time with hard rock band DiNOLA. The title reflects on kids trying to make sense of the outside stimulus of the so-called 'real' world and the world they live in themselves.The event raised $10,000
5/2012 Instant art/DiNOLA/New Orleans/Raphael
"My Baser Self Lives Here" This piece was my first onstage mega event live art show with the band DiNOLA in New Orleans. I had an exhibition at the Ogden Museum Of Southern Art upstairs, and we rocked the live venue on a Saturday afternoon, and I donated the art to the Museum's permanent collection. The title refers to a hard living life in New Orleans before Katrina and now when I visit.
1/2012 Instant art/DiNOLA/New Orleans/Ogden Museum

"JFK and Deluxe Rocketships in Grand Rapids" This show was a month long public competition in Grand Rapids called ArtPrize. I showed a combo of my rockets and the photos my Dad took of JFK onsite 50 years earlier. I placed in the top 75 of 1200 artists, and sold 3 rockets to Ripley's Believe It Or Not. 9/2010 VIDEO interview, ArtPrize
"Instant Personal Art For The People" This event was me on a loading dock outside the gallery, working with tools, raw materials, and hardware; creating art from personal and found belongings of my clients that day. Each piece was rapid fire and took about a half hour. A train happened to be idling under the bride all day too. I did 8 pieces for folks in 5 hours.
6/2010 All Day Instant Art , Smokebrush, Co. Springs
"Brink Of The Hydra" This event was commissioned by The Dairy Center in Boulder. They collected bike parts from all over town, from which I worked. They had 2 DJ's and visitors all day to watch something unbelievable! and auctioned off the finished work for charity.
3/2012 All Day Instant Bike Art, Dairy Ctr. Boulder
"Yah-Ta-Hey, Unusurped" This was performed in the parking lot on opening night of my Crutches show for 11th anniversary of 9/11. I took 8 vintage crutches and a vintage social studies project board from a friend's childhood and built this Native peace sign 'whirling logs' in front of a huge crowd who understood that it wasn't a Nazi swastika. At the end of the performance I had the audience write positive affirmations on strips of cloth and let them tie it to the finished sculpture, in an eternal wish for personal and worldly peace. The title is about the usurping of symbols for diabolic reasons, and I was giving it back to the peoples who knew it for communication and love in cycles.
9/2012 Instant Art Event, CO. Springs, w/Grant Sabin