"JFK IN GRAND RAPIDS, MI., 1960, campaign trail"
"JFK AS AN INDIAN"
Vintage historic family photos and my collage/assemblage
8 pics of JFK on the campaign trail in Grand Rapids, Mich., Sept. or Oct.1960. There is a 9th pic not shown of the approaching motorcade that shows the GR street but too far to recognize anyone. My parents lived in Grand Haven after getting married and out of the Air Force, and my Dad went to see Senator Kennedy in Grand Rapids, Fall of 1960 and took these quick pics after jumping out in front of the car to make it stop. In 1961, my family moved to New Orleans, where my Dad grew up. I developed the snapshots for the assemblages on the right side of this page in the 1980's to see what they looked like. The 2 sets of photos and the negatives were in a suitcase in my attic in New Orleans for Hurricane Katrina and were some of the few things that survived.
Blown up, matted, and framed at 2' x 3', the first run digital prints for the 50th anniversary to the month that my Dad took them, were displayed during ArtPrize 2010, shown at the prestigious Grand Rapids Art Museum, as half of my exhibition with my Deluxe Rocketships and these 2 assemblages. Now for the 50th anniversary of the assassination on Nov. 22, in creating assemblages on the actual prints enlarged and displayed at the GRAM, I have raised JFK from the dead as equal to Indian Chief, and as an expose as to how white man has treated the First Peoples as well as his own best leaders, in violence and corruption.
These photos are of the highest quality a 35mm Kodak camera could take in 1960, the negatives being 1", and the pictures taken in a couple minutes. They are beautiful! These museum site shots are deliberately taken by a digital camera in the museum setting to prevent copyright infringement.
The original negatives and rights can be negotiated by serious buyers/collectors only.

1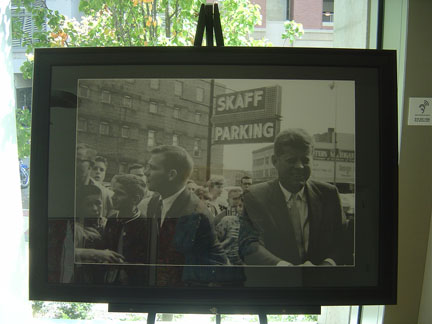 JFK with Michigan Lt. Governor John Swainson, who was elected Gov..
2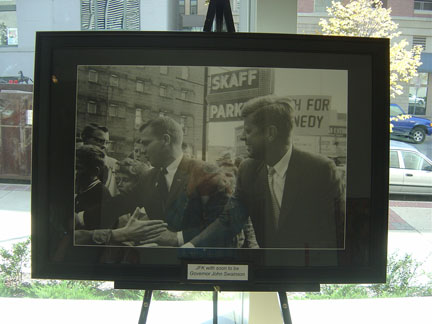 MY VIDEO INTERVIEW LINK
Assemblages with snapshot sizes, and story -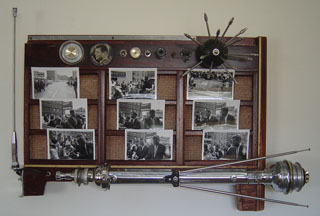 #1 Nuevo Ich Bin Ein SOLD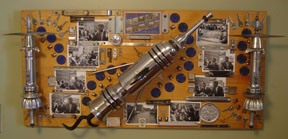 #2 Greetings From New Orleans!
Building The Future From The Past SOLD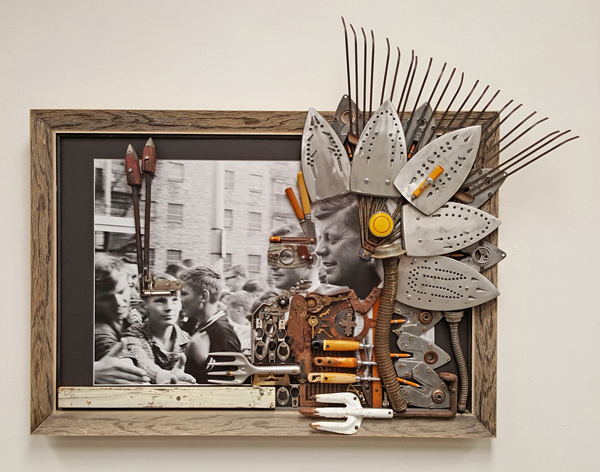 JFK As An Indian - #1 Large
$2500
Approx. 32" h x 46" w x 3" deep